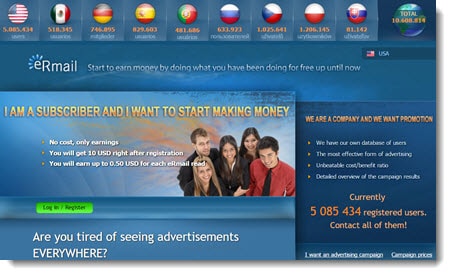 It has a 90% safe/legit score
Speaking about other ways to earn, they pay sn another US $1 for downloading their eRclient application.
It's not unbelievable unless you missed the fact it's a $100 payout and you probably get 10cents for most email ads they send. This means that you may have to read anywhere from 180 to 900 more of these to get to the $100 payout assuming you get no questionnaires. If you only get one ad a day then it could still take years to reach that. By then, they've gotten the money from advertisers and delivered the ads(to you). At that point all they have to do is delete your account or just not give you that last 50cent ad and they can keep what they got from the advertisers.
That said, if they have high-paying advertisers they might be able to live up to their claims. So definitely, I'd recommend -let's deep research first then signup.
How Does it Work? 
The whole system is easy to understand. Advertisers pay eRmail to promote their offers to you, which in turn passes a small percentage of the profits to you.
Great Start Up Bonus
After a quick sign up, you have to check your email and click on the confirmation link to activate your account.
Then, you will automatically earn a generous sign-up bonus of $10! A few minutes later, you will get your first eRmail worth $0.50. This is just a notification from the website, not an advertising email you will normally receive.
On the right corner, you can see your detailed balance account: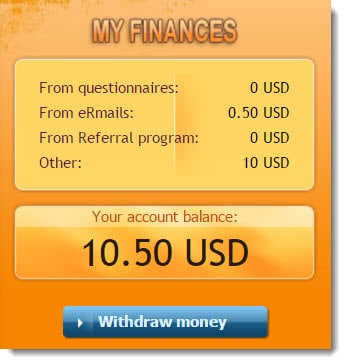 You will also earn $1 for downloading the eRclient application. This app will notify you about future eRmails, and allow you to read the advertising without having to check your mailbox.
How Much Can You Expect to Earn? 
Well, these guys are saying you will earn up to 0.50 for each eRmail, but I don't think they will pay that much apart from the first email. Similar to websites like InboxDollars.com and Paid-to-read-email.com, you will hardly ever make over $0.02 per email. So, that's misleading!
The earning potential varies according to your membership level. There are 3 levels you can reach according to how much money you make, but before I show you the differences between them, you need to understand their referral system.
Referrals Will Increase Your Earnings! But…
An interesting way to increase your earning is by referring (inviting) other people to the platform (up to a maximum of 20 referrals). For every person you invite, your earnings per eRmail increase by 10%.
For example, if you refer 20 people, each eRmail will pay you 200% or 4 times more. That's good, but there are not many opportunities available each day so the income potential remains considerably low.
Another negative point is that you will not make commissions on autopilot when your referral makes money. You still need to open those ads and click on the confirmation links. 
There is a feature where you can send the invitation link automatically to all your email contacts.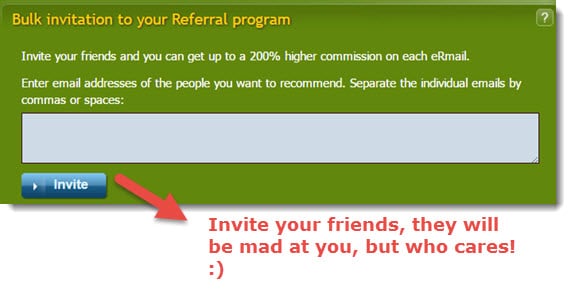 You can also copy the link and share on Facebook, Tweeter, blog or any place you can think of.

The 3 Different Levels
Here are the main differences:
Level 1



10 referrals (max)




Up to 0.5 USD for one eRmail




Questionnaires rewarding up to 2 USD




You need to earn 60 USD to jump to level 2



Level 2



15 referrals (max)




Up to 0.7 USD for one eRmail




Questionnaires rewarding up to 4 USD




You need to earn 160 USD to jump to level 2



Level 3 



20 referrals (max)




Up to 1 USD for one eRmail




Questionnaires rewarding up to 10 USD



on YouTube
مدير المنتدى




عدد المساهمات : 109

الجنس :

العمر : 28

الهواية :

المهنة :

مزاجى :

الدولة :

الأوسمة :



لاإله إلا أنت سبحانك إنى كنت من الظالمين






مواضيع مماثلة
---
صلاحيات هذا المنتدى:
لاتستطيع
الرد على المواضيع في هذا المنتدى